While Genie Bouchard was blasting Maria Sharapova for having the gall to return to the sport after dutifully serving a harsh drug suspension, the five-time Grand Slam champion stayed quiet, refusing to enter the fray.
She didn't bite on questions about the critical comments made by Bouchard or other peers and when she lost to Bouchard in a second-round match this week at the Madrid Open, Sharapova kept on driving the high road, offering a "well done" at the net only to be met with an icy stare from Bouchard, who was awfully pleased with herself in press.
The matter appeared to be put to bed, at least until the next time the two play, until Sharapova threw some of the stealthiest shade imaginable, all with a single tap of a button. It's glorious.
So, Sharapova has a book coming out in September. It's called Unstoppable: My Life So Far and is being touted as a memoir about "sacrifice" and "a girl and her father and their crazy adventure." In recent weeks, Sharapova has occasionally tweeted pictures of the cover.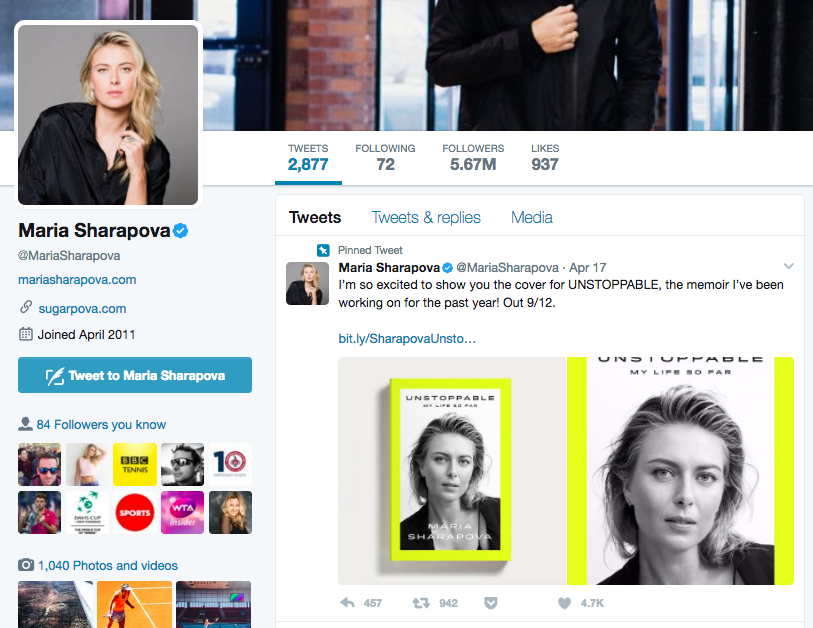 Then, on Tuesday, one day after the match, a Photoshopped image that appeared to come from this Twitter page made its way around the online tennis community, spoofing the Sharapova cover and her new nemesis.
Get your copy of Genie's book at Barnes & Noble today! #bookcoversmaybe pic.twitter.com/rKYz70gwp2

— The Drive Volley (@thedrivevolley) May 9, 2017
Oh, that's quite good. A little on the nose maybe but a nice rallying cry for the pro-Masha crowd.
And that was that; just another normal day on Twitter … until: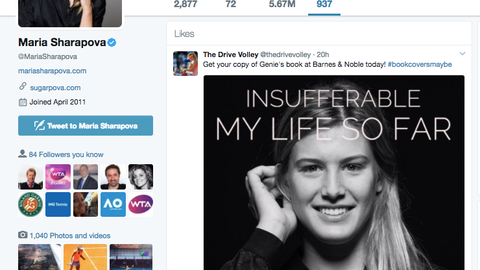 And … gold. The picture clearly made its way to Sharapova who clearly enjoyed it. Rather than retweet it out to her 5.67 million followers or comment on it, which essentially does the same thing, Sharapova went for the simple "like" option. The benefit of "like" is that the post doesn't show up on any of Sharapova's three main pages (tweets; tweets & replies; and media), which helps her maintain a sort of plausible online deniability. Checking to see somebody's likes isn't a normal part of the Twitter experience, especially if using Tweetdeck or the phone app. It's the sort of thing that would go unnoticed by almost everybody – maybe a couple hundred people would have seen it – until one person shares it with everybody else.
The message is still the same. Finally, it's a counterattack, if only an unspoken one. The whole thing has a sort of impishness that's classic Sharapova, tacitly saying that all of this is on her terms. She'll make a small statement like this but won't provide the soundbite that'll be replayed ad nauseam. It's not overt enough to be a salvo but it's definitive enough to be an ethos. It's the opposite of Bouchard telling a Turkish TV station that Sharapova should never play tennis again or Serena Williams taking not-at-all-veiled shot at Sharapova in a 2013 Rolling Stone interview. Subtlety is a lost art.