Of the 207 nations which took part in Rio 2016, 59 took home an Olympic gold. One of that elite group, and for the first time in their history, included Singapore, courtesy of one Joseph Schooling.
The 21-year-old swimmer sent shock waves around the world when he defeated his childhood idol Michael Phelps in the 100m butterfly final.
Back training and studying at the University of Texas at Austin, the Lion City's golden child spoke with FOX Sports Asia's Cameron Tucker about Rio, the future and his beloved Chelsea…
Cameron Tucker (CT): Joseph Schooling, 2016 Olympic Champion. That's got a nice ring to it.
Joseph Schooling (JS): Yeah, it sounds great! If I'm having a bad day at school, that'll make me feel a lot better (laughs). Other than that though, it's in the past. I know I sound a little pessimistic, but you can't really dwell on things like that. I'm happy I could've achieved that, but now it's time to get back to work.
CT: Has it quite sunk in yet?
JS: I thought it would feel different after I won and I thought it would sink in after a couple of days. But it really hasn't. I don't think I'll really realise what I've done until I'm much older, like in my thirties or forties. When I'm retired and all this is settled and done, I'll have enough time to just sit down and reflect on my career.
CT: Going back to that moment in the pool when you touched the wall, looked up at the wall and saw your name at the top of the scoreboard, what went through your mind?
JS: I don't really know what I was thinking, to be honest. You just get caught up in the moment. Obviously I was ecstatic when I saw a "1" next to my name. I was also a little relieved. I've been wanting to win this for a while. I felt really relieved that I had achieved my goal from when I was six, seven-years-old.
#SIN's Joseph Schooling idolized Michael Phelps as a boy. Last night he beat him the 100m butterfly. #Swimming pic.twitter.com/FCIYAkGj60

— Rio 2016 (@Rio2016_en) August 13, 2016
CT: Like you said, it's been your goal from an early age. In the 100m butterfly final, you went up against Michael Phelps. He doesn't normally go that quickly down the first 50m, but when you didn't see him gaining on you in the second 50, did that give you an extra boost?
JS: Yeah, for sure. I looked left and right probably for the last 15, 20 meters and I saw I was a little ahead still. After I saw that I just looked straight down, tried to limit my breathing and just get my hand on the wall first. Before I took my last stroke, I didn't really know if I was still ahead. I was just trying to get to the wall as fast as I could. That's why I tried to look up and search for one of those red lights that light up on the block if you're first, second or third. So I was trying to look at that, I was trying to look at my block and the people beside me. Then I turned around and checked out the scoreboard.
CT: And being up against your boyhood idol – that photo of a 13-year-old you with Phelps went viral after you won – was it hard not to fanboy him in Rio?
JS: I mean, Michael and I have swum a lot of races before this so maybe in 2011 or 2012 I was still all over that. This time around, Michael and I know each other and are a little more comfortable around each other. It felt normal. I wasn't in awe. I wasn't star-struck. I knew what I had to do. For me, whenever I've had the chance to swim against Michael, it's just been a privilege. It's been a cool experience.
CT: You've achieved your dream of a gold medal, and not only that, you've now got an Olympic record and an Asian record (50.39). Is that a mark you've been aiming for?
JS: I don't really think about Olympic records or Asian records or whatever record. The most important record to me is the world record. That's my next target. Going into the Olympics, I thought I had a small shot at breaking 50secs. It was a long shot, sure. I knew I could be 50 low, but breaking 50 is a different story. I believed that I could and that's the most important thing. You've got to believe before you achieve something. Taking down Michael's world record is my next target.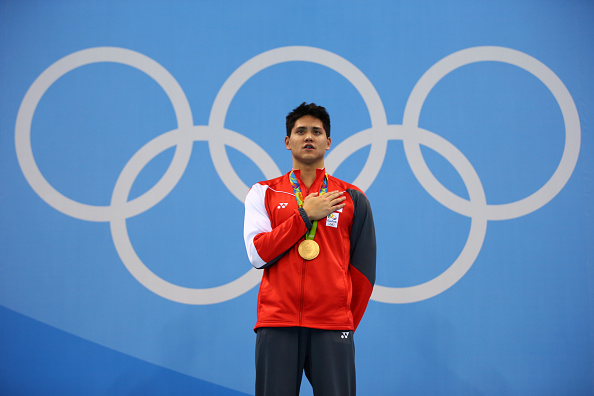 Remembering the anthem (no pressure)
CT: What did it mean to hear Onward Singapore (Majulah Singapura) and see the flag raised inside the Aquatics Stadium?
JS: It was… Words really can't describe that moment. Everyone in that stadium and everyone around the world is hearing your national anthem being played. I bet for a lot of people they haven't even heard our anthem before in their lives. Having that played for the first time on that stage really meant something. I was so nervous singing it because I knew all the cameras were on me and I didn't want to botch it. When the pressure's on you forget the words sometimes, but I'm glad I got it out.
CT: A bit different to karaoke with your friends then?
JS: (Laughs) Yeah. Singing around my friends and singing in front of everyone else is a lot different.
CT: Your coaches have played a huge part in getting that anthem played, especially Sergio Lopez.
JS: Sergio's great. He's like my second dad. It took a lot of work to get our friendship to where it is today. When I first came in I didn't want to swim. I didn't want to go to school. I just wanted to go home when I was at Bolles. I was very negative. Sergio's a very emotional person and he takes things like that very seriously. There were some days I came into practice and I ran my mouth and didn't do and say the things I should've done and said. But Sergio's very patient. He was kind of in that spot himself growing up – going from Spain to the U.S., training by himself. He understood the spot that I was in. For me, I was very lucky that Sergio understood what I was going through. Everything kind of shaped out the way we hoped.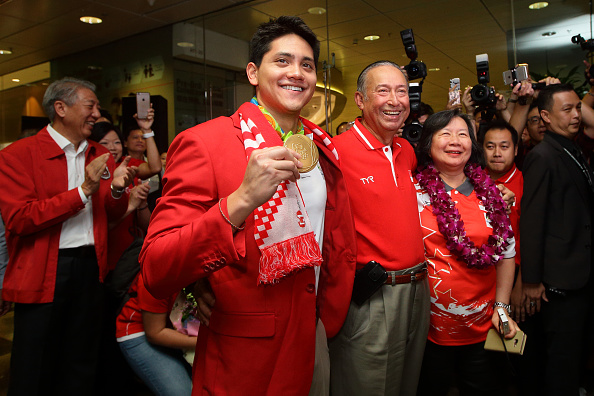 The Family Schooling
CT: Sergio's been with you every step of the way, and likewise your family have been there for you too. Seeing your mum jumping around in the stands when you won and the way you embraced your dad at Changi Airport, they are obviously both so proud of you.
JS: My mum was happy. My dad's like me and he doesn't like showing emotions too much in public. Obviously, it was hard having cameras in front of us when we first hugged. That was kind of cool but it was kind of weird in a way. When I walked out, I was literally blinded. I couldn't see anything in front of me because the flashes were going off. I'd never had that happen before. Hopefully, though, it'll happen many more times to come.
CT: And you've kept up the family's strong sporting tradition.*
JS: Growing up, sports was really important in my family. It's important to have a healthy and active lifestyle and my parents definitely thought that way. But I actually started swimming because my parents wanted me to be water safe. Singapore is an island and my dad didn't want me to drown. He wanted me to be safe and that's why he put me in swim classes. Who would've thought that going from taking up swimming for water safety would turn into winning an Olympic medal?
*Schooling's mother (May) represented the Malaysian state of Perak in tennis, while his father (Colin) represented Singapore in softball. His great-grand-uncle was Lloyd Valberg, Singapore's first ever Olympian (high jump).
CT: I read that your parents took some convincing before you got your Longhorn* tattoo. Were they more easily swayed when you got your Olympic rings?
JS: Oh yeah. The Olympic rings were initially the only thing that they'd let me get tattooed. But I explained the Longhorn tattoo and its significance. My dad loved it, but my mum's still a little iffy on it. She actually really doesn't like it. So I'm going to side with my dad on this one.
CT: You had your homecoming at Changi Airport, messages from the Prime Minister, trips to parliament and an open top bus tour of the city. That's quite an amazing array of celebrations.
JS: They were cool. I enjoyed the victory parade more than I thought I would. When they laid out the schedule they were like, "You're going to have five or six hours of this, standing up and going places." I was thinking to myself, "I'm so tired. This is the last thing I want to do right now." I really enjoyed it though. If I had the chance to do it again I would for sure. It was a blast to see the turnout and the support. I'd never seen anything new like that before.
CT: A lot of athletes have said being in Rio was a bit of a bubble, so was coming home and having all these celebrations quite a shock to the system?
JS: I think it was a huge shock because there hasn't been a reception like that in Singapore ever. I didn't think the crowd would be like that. It was phenomenal. People were screaming. People had banners. They were very happy. For me to see all that, to see my whole country supporting me, after all the work I've put in, that really means something. That's the icing on the cake. It really hits home.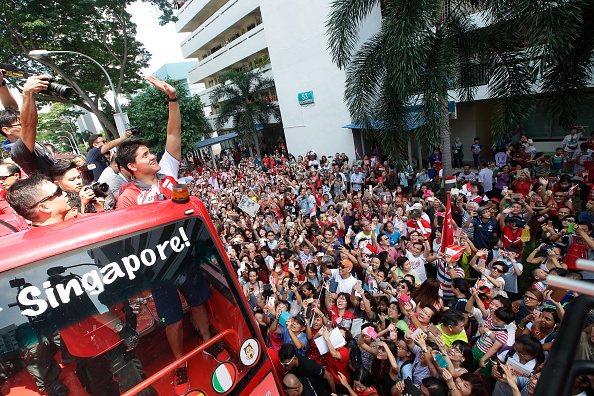 CT: Going back to 2014, you won an Asian Games gold and got a Commonwealth silver, ending Singapore's medal drought in both competitions. Now that you've won Olympic gold, what impact do you think that will have on the current and future crop of Singaporean swimmers?
JS: Hopefully it won't just be for swimmers, but for sports in general. Hopefully it'll open new doors in Singapore. Being the first one to do it is always hard, there's so many barriers and obstacles to overcome. Now that I've proved we have the talent in Singapore and we have the ability to do special things at the highest stage, hopefully people will pay more attention to sports. I know we're not particularly a sporting nation, but this can change that and take us to the next level soon. That's my goal right now; to try and open new doors in Singapore and help younger athletes realise their potential and maximise that.
CT: Talking of harnessing talent… You're training in the States, but they've got the state of the art Sports Hub in Singapore now. Do you think this can become a medal factory for competitions to come?
JS: Hopefully. The more medals the better. Now that I've shown it can be done, hopefully people start believing it and set their minds towards winning in the Olympics. I know there's always huge talk of the SEA Games and regional meets, but I think we're getting good enough now to turn our sights first to events like the Asian Games and Commonwealth Games and after that turn our sights to the Worlds and Olympics. We need to stop thinking about the SEA Games being the pinnacle of a sporting career and start looking to bigger things.
The medal factory?
CT: No one obviously likes mixing sport and politics, but Gerard Wong, the sports editor for TODAY, wrote that national service should be relaxed to allow young talent to realise their full sporting potential. He also said getting an Olympic medal was public service enough. What does it mean to you that your success has transcended sport and taken on a political significance?
JS: On a political level, it's not my job to say whether this person should get deferred or not. That's between them and MINDEF*. For me, all I can say is I've done it. I need to just keep doing me. I can only hope for the rest. I can't control what they do. Me accomplishing this and affecting Singaporeans not only at a sporting level but also on a political level, that's something else.
*Ministry of Defence Singapore
CT: The last thing I'm guessing you want to think about at the moment is the next competition. But I must ask if you've thought about Budapest next year for the World Championships and Tokyo 2020? What's the plan at the moment?
JS: Right now, it's just trying to get into the swing of school again. It's always hard to come back, especially after a big summer. I've just got to get back into the routine of going to school, lifting weights, swimming, eating and then swimming again, so it's a lot different to the summer. It's hard getting back into that routine. It might take me a couple of weeks to a month to get back and feel comfortable and I'm in the process of doing that now. I'm taking it slow. I'm in better shape than I thought I was going to be in, which is a surprise. I'm doing fine in practice. If I'm feeling this way, I can take things slower and in the long run that's going to benefit me more. I'm not going to feel so worn out. I'm in a good spot.
CT: You've also got more time now to catch up with Chelsea's campaign. 3 games, 3 wins, Conte's off to a flyer.
JS: He is! Costa's looking good too. I know there's a lot of talk about him, but he's my man. It's kind of weird seeing Chelsea around the top after the year we had last year. That was really disappointing, but that's sports right? You rebuild and you go up and down. We've signed some pretty good players. I think we still need a defender. Hopefully Zouma gets better. I think if he comes back and plays like he was playing last year before he got hurt then I think we're in a good spot.
CT: Well, you've got David Luiz back now. Even if he is a bit of a liability…
JS: You never know with Luiz. He's great or he sucks. There's no middle ground. I like Luiz though. He's a character. He seems like a really nice guy.
CT: Eden Hazard is also a character and I saw that he sent you a congratulations via Instagram when you won gold. That must've been the real icing on the cake?
JS: I've only got star-struck twice this summer; First, was when Usain Bolt was walking behind me in the Olympic Village. I turned around and was like, "Wow!" The other time was after Eden sent me that message. That was pretty cool and really nice of him.
Cameron Tucker