It's been one of the worst seasons in recent memory for Arsenal, and they hit yet another awful milestone on Monday.
The Gunners were thrashed 3-0 by Crystal Palace at Selhurst Park, losing away for the fourth consecutive league match in a row. It's the first time this has ever happened in Arsene Wenger's 21-year tenure, and it's only made worse by the comprehensive way they were beaten.
The Gunners defence was a complete and total shambles from the beginning. Without Laurent Koscielny, their back line was pulled apart over and over again by Wilfried Zaha and Andros Townsend, and, without a true physical presence in defence, they were bullied for 90 minutes by Christian Benteke. Townsend's 17th-minute opener wasn't even a little bit surprising, and Arsenal's lack of response was even less of a shock.
As bad as Arsenal were defensively, they were somehow even more awful in attack. Wenger's sides have often struggled to defend this year, especially away from home, and their poor showing wasn't surprising against Palace. On the ball is where the Gunners usually shine, but there was none of that on show at Selhurst Park, or really at all in the last four away matches.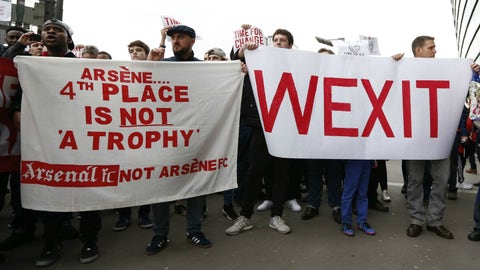 While Arsenal's midfield maintained possession well enough, they didn't create any real clear-cut chances, or pose any danger to Palace. The Gunners failed to put a single shot on goal in the second half, and their creative genius, Mesut Ozil, failed to create a single chance in the entire match.
Arsenal had 72 percent possession, but they only managed three shots on goal, while Palace doubled that number, peppering backup goalkeeper Emiliano Martinez's net throughout. Palace were organised, compact and worked as a team. Arsenal managed none of those things.
Arsenal have scored just three goals and conceded twelve in their last four away league matches. They're now sitting in sixth place, level on points with Everton. They're not just in danger of missing out on the top four, if they continue to free fall, they could miss out on European qualification altogether.
Wenger himself has continually refused to comment on his future at Arsenal, despite his insistence that he's decided what his path from here will be. Arsenal supporters have grown increasingly more vocal about his time coming to a close, and this soul-crushing loss to Crystal Palace will only make it worse. The fact that it's yet another awful milestone for this season is just the cherry on top of an awful cake, and things are spiralling out of control for the Gunners.
Things are bad in North London, and it's hard to see them getting better anytime soon.